Resort Music... And The Ray Kelley Band


Resort Music was founded in 1988 by Ray Kelley with a concept based on showcasing geographic locations with music that would pleasantly remind people of their business and personal travel experiences. Resort Music CDs are written, arranged and performed by some of the most talented musicians in the Los Angeles recording industry. It is music that they want to play, and music you want to hear!

Resort Music provides a fresh, stimulating collection of contemporary instrumentals that appeal to all ages... and all musical tastes!
---
Singapore's MAX Atria Debuts Resort Music 'Soundscape'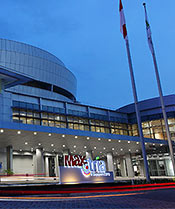 RESORT MUSIC PROUDLY ANNOUNCES the Republic of Singapore as its latest global destination! Through MAX Atria, the newest meeting & convention venue in Singapore, Resort Music supplied a customized musical SOUNDSCAPE to showcase and promote this space!
Please check out our new links to Singapore EXPO, MAX Atria, STB (Singapore Tourism Board), Your Singapore, along with many hospitality sites, popular attractions and organizations that Resort Music is privileged to be part of in the progressive Republic of Singapore.
Singapore, a Southeast Asian city/state, is located off the southern tip of the Malay Peninsula. It is 85 miles north of the equator. An island country made up of 63 islands, is separated from Malaysia by the Straits of Johor to its north and Indonesia's Riau Islands by the Singapore Straits to its south.
Singapore is incredibly modern, clean, and safe with friendly people and a multitude of captivating attractions. The "Lion City" is a fantastic place to visit for a wide variety of the world's tastiest and spiciest cuisines from cultures including: Chinese, Indian, Malay, Peranakan and Indonesian, among others.
Singapore should be a 'must see' on everyone's travel itinerary.
---
AVAILABLE DIGITALLY WORLDWIDE…

Resort Music albums are digitally distributed by Warner Music/Zebralution.

Please refer to RAY KELLEY BAND in GOOGLE (or your favorite search engine) for up to 24 albums available on hundreds of Internet sites, mobile carriers and digital storefronts in over 75 countries. You may access downloads through iTunes, 7 Digital, Amazon, Rhapsody as well as other digital music services in Asia, Europe, Central and South America, Mexico, Canada and the United States.
Resort Music provides a fresh, stimulating collection of contemporary instrumentals, appealing to all ages. Music styles range from Pop, Rock and Country to Ambient, Jazz and Native American… plus instrumental sound-alikes of all your favorite hits! You will definitely find something that matches your musical preferences.!

Resort Music is pleased to be digitally distributed by Warner Music/Zebralution.